Huawei Mate 9 Compare with Xiaomi Mi 5s Plus

Half the price, but just as good?

We publish buyer's guides regularly, featuring the best phones in all price categories. But those are quite long and we thought you may be interested in a more targeted approach - one excellent phone and one alternative option that is much cheaper, often half the price.

This will be a series of articles, the first one pits the Huawei Mate 9 and the Xiaomi Mi 5s Plus against each other. Both are great, and at least on paper pretty similar, but the Huawei is close to €700 while the Xiaomi is around €350.

So, whether a flagship is outside your budget or you just want to make sure you don't overspend, this series will highlight what you do and do not lose by picking the more affordable option.

As a sneak peek, here are some of the other duets we will be visiting:
Huawei Mate 8 vs. Xiaomi Mi Mix
Samsung Galaxy S7 vs. Galaxy A5
OnePlus 3T vs. Google Pixel XL
Huawei Mate 9 vs. Xiaomi Mi 5s Plus
Huawei pronounced the Mate 9 the best phone in the world - and indeed it has many superior qualities. But we started wondering if we can match most features at half the price. This lead us to the Xiaomi Mi 5s Plus, which seems to tick a lot of boxes and share plenty of ideas with the Huawei.
While it doesn't benefit from Leica's touch, the Xiaomi also has a dual camera on the back with advanced features. And it comes with the best Android chipset of 2016, while Huawei chose to use mostly in-house components for the Mate 9.
This includes Huawei SuperCharge to feed its bigger battery, which is needed to power the bigger screen. Bigger, but not sharper - both phones come with 1080p screens, housed in metal bodies.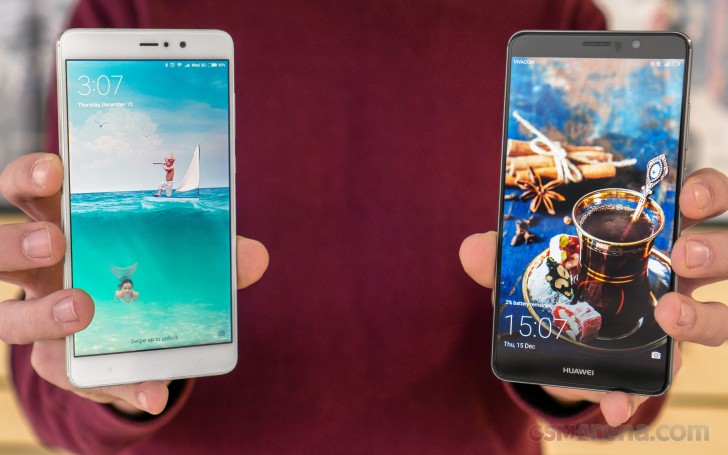 A closer look starts to reveal why the Huawei Mate 9 is the more premium offering. It's not just the Leica-branded camera or the slightly bigger screen and battery, it also has expandable storage and runs newer software, Android 7.0 Nougat.
The Xiaomi Mi 5s Plus also packs a punch - our tests show its battery lasts longer (despite its smaller capacity) and there's a premium version with more RAM and storage. But since this is a value-for-money challenge, we'll use the base version which has almost the same features as its opponent at almost half the price.

Huawei Mate 9

Xiaomi Mi 5s Plus
Around €700
Around €350
Metal
7.9mm thick, 190g
Metal
8mm thick, 168g
5.9" IPS LCD
1080p (373ppi)
5.7" IPS LCD
1080p (383ppi)
20MP + 12MP (OIS)
2160p
13MP + 13MP
2160p
2.4GHz (octa)
HiSilicon Kirin 960
2.35GHz (quad)
Qualcomm Snapdragon 821
6GB RAM
64 GB memory (expandable)
4GB/6GB RAM
64GB/128 GB memory
4000mAh
3800mAh
Availability
The Xiaomi Mi 5s Plus may be a great deal, but you can't just waltz into your local phone shop and buy one. There are several sites that sell it, including ones with European stock, so shipping will be fast and you won't have to deal with customs.
The Huawei Mate 9 has issues with availability as well - it is yet to launch in the US. Huawei announced that it will be available starting January next year, so at least the wait is almost over.
Retail package
Both phones come bundled with fast chargers with a proprietary USB-C cable (regular cables may make the Xiaomi charge slower and certainly will top up the Huawei at a lower rate), plus a basic bumper case. Huawei's retail package is richer - there's a solid headset and a microUSB to USB-C adapter.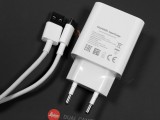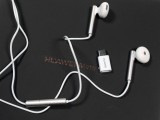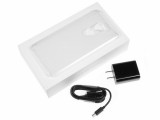 Huawei Mate 9 charger and cable • Huawei headphones and adapter • Xiaomi charger and cable
Neither bumper case is particularly great, especially if you buy these phones for the premium metal feel. As for the headphones, a good pair of Xiaomi Pistons costs from sub-€10 to around €25 for the High-Definition, dual-driver model.
Half the price, just as good: We think so! Xiaomi's headphones are good and affordable, you can order a pair along with the phone.
Design
Huawei was quite proud of how it managed to slim down the bezels on the Mate 9 and indeed it is roughly the same size as the Xiaomi Mi 5s Plus, despite having a screen that's 0.2" bigger. We also loved the curvature of the back - 7.9mm at its thickest, the metal tapers off to even thinner side.
The Mate 9 chassis has been machined on a CNC mill in an hour-long endeavour that includes 50 steps. The lengthy process was worth it as the phone has a distinct premium feel, but the finish of the metal is too smooth for our liking (it makes the phone slippery, not what you want from a 200g, €700 gadget).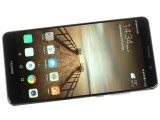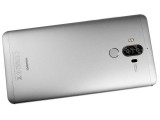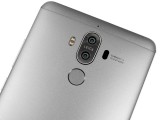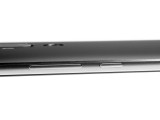 Huawei Mate 9 metal body takes an hour to manufacture
Xiaomi had different ideas. The back of the Mi 5s Plus is flat (with beveled sides), even the glass on the front is flat (contrasting with the 2.5D glass of the Mate). The metal back has a brushed texture which you can feel as you brush your fingers across the back. Unfortunately, this doesn't give it more grip. Another complaint is that the plastic antenna lines on the back are a bit too prominent (Mate 9's are more discreet).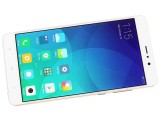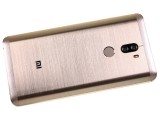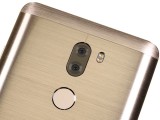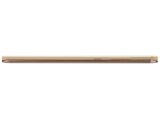 The Xiaomi Mi 5s Plus goes for brushed metal but it is still too smooth
Okay, so Huawei's cost of labor was higher, and the design team must have charged more. There are subtle differences and more noticeable ones that amount to the Huawei Mate 9 looking like sleek, high-end equipment.
It definitely helps that Huawei matched the color of the front to the color of the back. Xiaomi meanwhile offers only White and Black fronts, which don't match well with all color options for the back.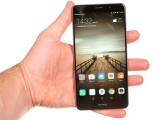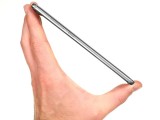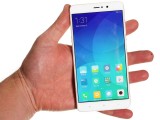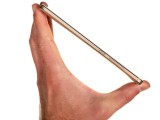 Huawei Mate 9 and Xiaomi Mi 5s Plus in the hand
Xiaomi did manage to get the dual camera on the Mi 5s Plus flush with the back, though, while the Leica cam on the Huawei sticks out.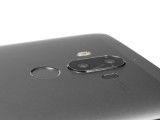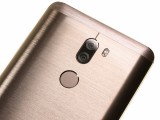 Huawei/Leica's camera protrudes • Xiaomi's camera is flush with the back
Finally, time to talk accessories. The Mate 9 has double the loudspeakers (two) and microphones (four) of its opponent. Huawei kind of cheated here and use the earpiece as the second speaker and it just doesn't sound as good as a dedicated loudspeaker.
Both phones have IR blasters on top and dual card trays. However, Mate 9's is a hybrid - you can replace SIM 2 with a microSD card. Xiaomi opted out of expandable storage.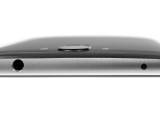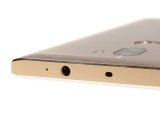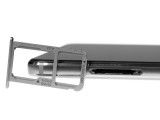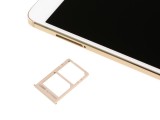 IR blaster on the Mate 9 • On the Mi 5s Plus • Card tray on the Mate 9 • On the Mi 5s Plus
Half the price, just as good: Not in this case. A discerning eye can tell which is the more premium offering and expandable storage is certainly handy.
Screen
Both companies picked IPS LCD panels, even though they have each dabbled in AMOLED. Still, they picked some very good units, so we have no complaints.
Both are very bright (around 650 nits) with amazing contrast ratio (around 1,500:1, with a slight edge for the Huawei). Both can scale down to very low levels for late-night viewing, but neither has an Always On mode.
Display test

100% brightness

Black, cd/m

2

White, cd/m

2

Contrast ratio

Huawei Mate 9
0.41
665
1622
Xiaomi Mi 5s Plus (warm)
0.43
673
1565
From a fairly even start, the Huawei Mate 9 and Xiaomi Mi 5s Plus trade victories. The Huawei has superior sunlight legibility, in part thanks to the higher contrast of the display but also (we think) because the glass is less reflective.